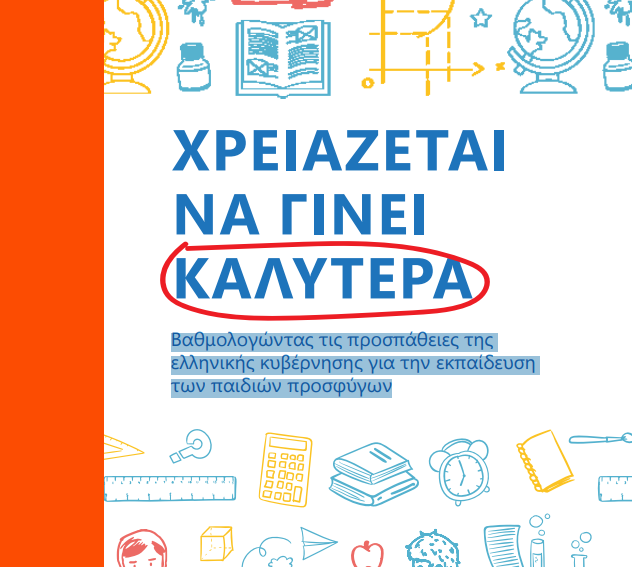 For this report, the Greek Council for Refugees (GCR), Save the Children, and Terre des hommes Hellas/Tdh reviewed official statistics and data to measure the government's performance in comparison to the previous school year. They also held 13 focused group discussions with a total of 53 children from 12 different countries, in the refugee structures of Ritsona and Lagkadikia, in the Intercultural Center "Pyxida" of the GCR, in the Reception Center for Asylum Applicants "Filoxeneio" of the Municipality of Thessaloniki and in the GCR office in Thessaloniki. Discussions were also held with parents, humanitarian professionals, and agencies such as UNICEF and the Ombudsman.
The report analyses six key indicators – a) enrolment, b) attendance, c) access to inclusive education, d) transportation to schools, e) adequate staffing and timely scheduling, and f) action to end community hostility and xenophobia - that had previously been identified as key barriers. For each of these, the government has been assigned a grade ranging from fully meeting its obligations (A) to deterioration of the situation from last year (Fail).
The three organizations include this initiative in the context of their more comprehensive action as the Advocacy Network for the Rights of the Child which consists of more than twenty civil society organizations. Together, they monitor the issues concerning children on the move and intervene at the national and European levels with the aim of all children enjoying their rights, as defined in the International Convention.
© Greek Council for Refugees (GCR), Save the Children International (SCI) and Terre des hommes Hellas (Tdh), July 2022